USKEYVISION VLOG K2 Universal Smartphone Video Kit with UVZL-1 Video Conference Light, Tripod, Ball Head, and UVM-V Cardioid Microphone. The Vlogging Combo is perfect for phone YouTube or Vlog video recording simultaneously. Also designed for Zoom
 calls, video conference lighting, Zoom Light, Photography, Makeup, Live Streaming, YouTube, vlogs/TikTok, makeup, Facebook, Youtube, Twitter, Snapchat, FaceTime, etc.
Universal Video Microphone
Adjustable Mini Tripod
Universal Smartphone Clip
Plug and Play Easy Installation
VLOG K2 smartphone video kit is a universal smartphone video kit that consists of a UVM-V condenser microphone, smartphone clip, ball head, mini tripod, UVZL-1 Video Light, and Furry windscreen. Lightweight and compact design, it's very convenient to take no matter indoor or outdoor audio recordings and on location. No extra accessories required, you can get a hassle-free audio solution with no compromised sound. It's perfect for phone videography, filmmaking, vlogging, broadcasting, live-streaming, and more. 
Notes: The Smartphone and Lightning Cable are not included.
What's in the box:
UVM-V Shotgun Microphone

UVZL-1 Zoom Conference Light

Smartphone Clip

Microphone Foam

Furry Windshield

Shock Mount

Mini Tripod

Ball head

Microphone Pouch Bag

Case Bag
Features:
Universal Smartphone Video Vlog Kit with Video Light
Ideal for Youtuber, vlogger, story-teller, and videographer
Tripod mount fits most smartphones, action cameras, and cameras
Included Cardioid shotgun microphone
Tilt and swivel ball head control
Includes UVM-V condenser microphone, smartphone clip, ball head, mini tripod, and furry windscreen.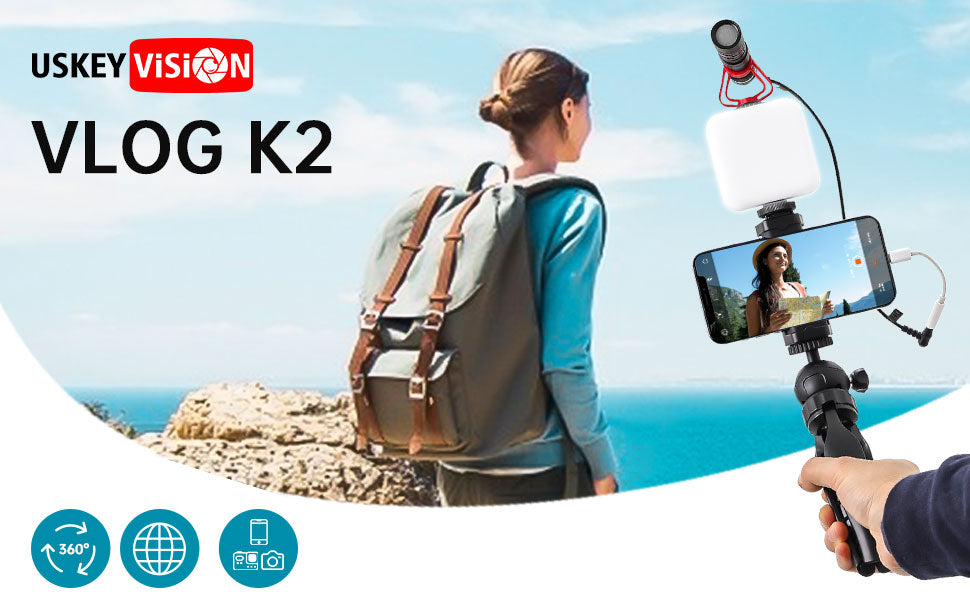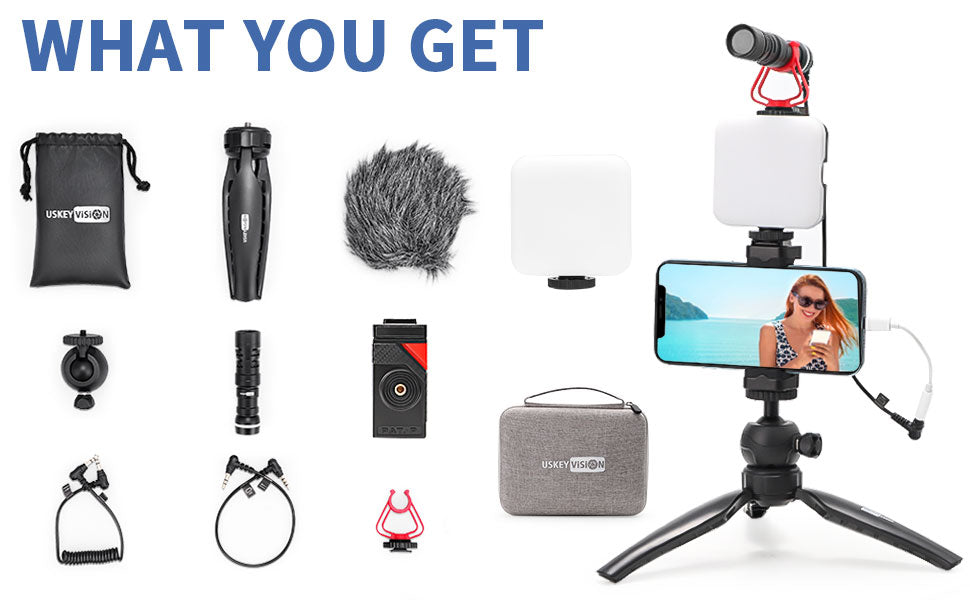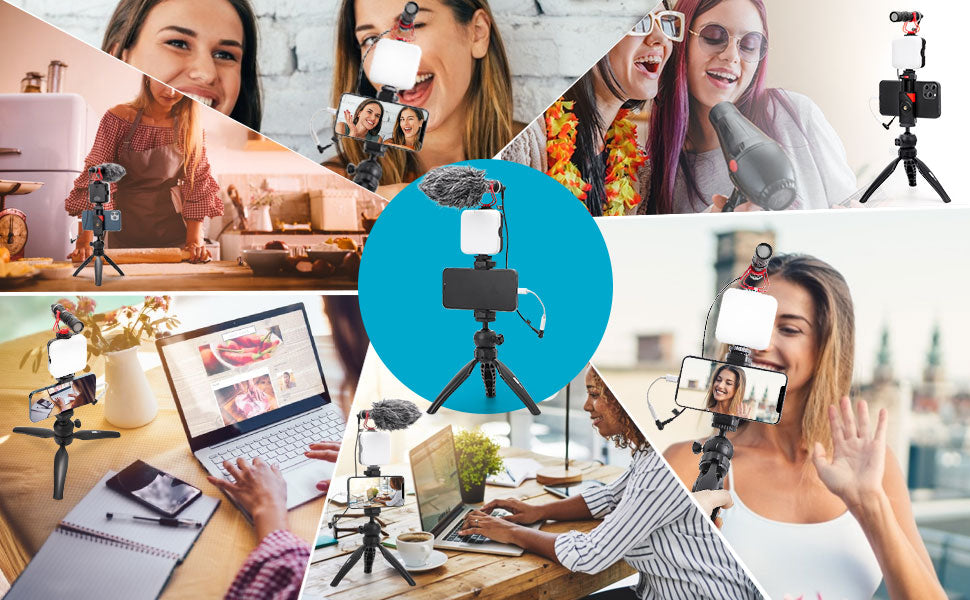 Adjust the Height of the Tripod Feet
The mini tripod can be folded up in any position, and the feet have to be folded up before adjusting the angle of the feet.

Rotate the adjustment screw on the mini tripod clockwise to make the feet stand taller.

Rotate the adjustment screw on the mini tripod counter-clockwise to make the feet stand at a wider angle to make it shorter.
Adjust the Ball Head:
Turn the tripod ball head locking screw counter-clockwise, and then adjust the upper part to your desired position. Turn the ball head clocking screw clockwise to tighten.
Shipping:
Free shipping on orders over 49.99$.
Order Processing : 1-2 Working Days.
Standard Shipping: 4-6 Working Days(FedEx/DHL Express to USA、UK、Canada、Australia).
*******
Return:
We are bummed if you're not 100% satisfied with the items you received,and we gladly accept returns within 30 days of receipt for most items in new condition.
Please contact us if there is any problem by email to uskeyvision@uskeyvision.com.
For more details,please check our shipping&return policy.