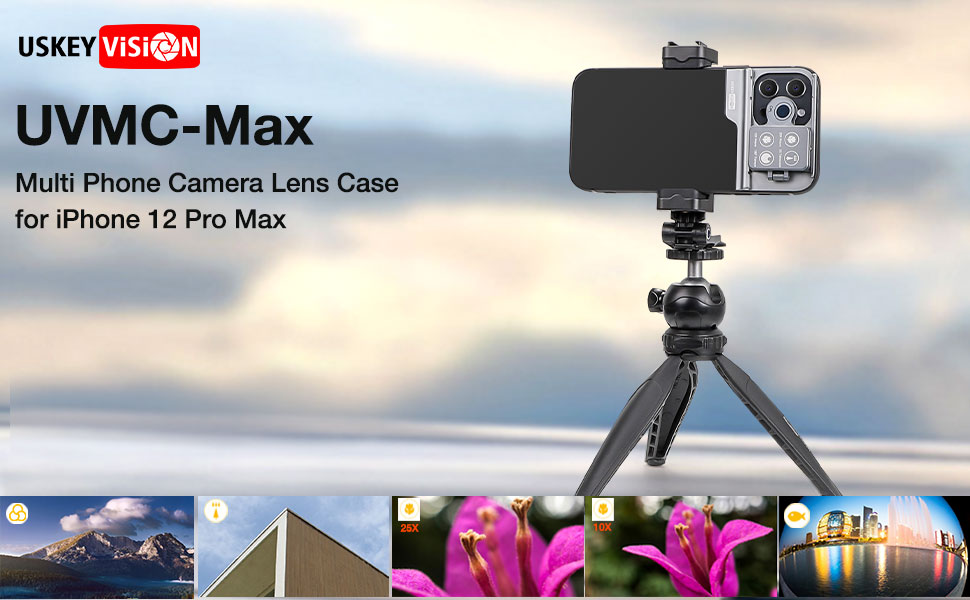 ♥♥ [ Exclusive for iPhone 12 Pro Max] It is only designed for iPhone 12 Pro Max. It has 5 Five Lens, which are CPL Filter, 10x Macro Lens, 20x Macro Lens, 2x Telephoto Lens, and 180° Fisheye Lens. They are all perfect for iPhone 12 Pro Max.

♥♥ [ 5 IN 1 Lens System] --- It is a phone case and attached 1* CPL Filter+1* 10X Macro +1* 20X Macro+1* 180° Fisheye+1* 2X Telephoto Lens, 5 in 1 lens system brings your iPhone 12 the professional & excellent shooting and easy to switch any lens you want.

♥♥ [ No Need Install the lens, very Easy to Use] --- The 5 Lens already installed on the iPhone 12 case before you get it, you can choose any lens when you use, very easy and convenient. After using the lens, just close its cover, and then it will be only a simple phone case.

♥♥ [ Which Lens ] --- 1. CPL filter is great for removing unwanted reflections from non-metallic surfaces such as glass or water. 2. Super Macro Lens captures life-sized images of the smallest objects at the highest quality. 3. 2x Telephoto Lens gets you closer for tighter, crispier shots without using the digital zoom. 4. 180° Fisheye Lens provides you with incredible and dramatic rounded images, which takes you into the stunning and fantastic world.

♥♥ [What will you get ] --- 1x UVMC-Max Phone Camera Case; 1 x Services Card. Satisfaction Customer Promise: USKEYVISION is dedicated to unleashing your vision. USKEYVISION strives to present the highest quality products on the market. We back up our products with a lifetime warranty, great customer service, and a full satisfaction guarantee with free shipping and return.