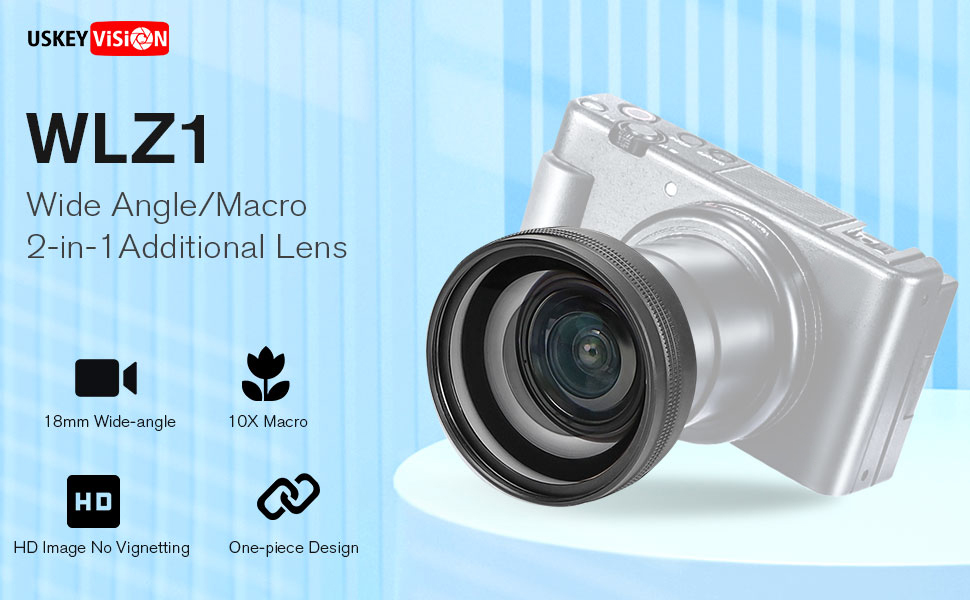 ♥♥ [ Wide Angle + Macro Lens, 2-IN-1 Lens for Sony ZV-1] ---USKEYVISION WLZ1 Lens is designed only for Sony ZV-1 Camera. It is a 2-IN-1 Extra Lens, which has not only a 18mm Wide Angle Lens, but also a 10X Macro Lens. Perfect for Sony ZV-1, it will be your best choice.

♥♥ [ 18mm Wide Angle Lens ] ---With the WLZ1 Lens, it will change your ZV-1 camera lens from 24mm to be 18mm, which will give you a larger angle for photo and video shooting. Please note that the wide angle lens should be used together with macro lens.

♥♥ [ 10X Macro Lens ] ---It will change and attached with Sony ZV-1 original lens to be 10X macro lens. With it, you will experience the wonderful micro world. Please note that when using the macro lens, you should take off the wide angle lens.

♥♥ [ Easy To Mount and Use ] ---WLZ1 2-in-1 Additional Lens can quickly install through 52mm bayonet, the lens does not affect the original lens shrinkage.

♥♥ [ 1-Year Warranty only Supported by USKEYVISION ]--- Satisfaction Customer Promise: USKEYVISION is dedicated to unleashing your vision. USKEYVISION strives to present the highest quality light on the market. We back up our products with a lifetime warranty, great customer service, and a full satisfaction guarantee with free shipping and returns.