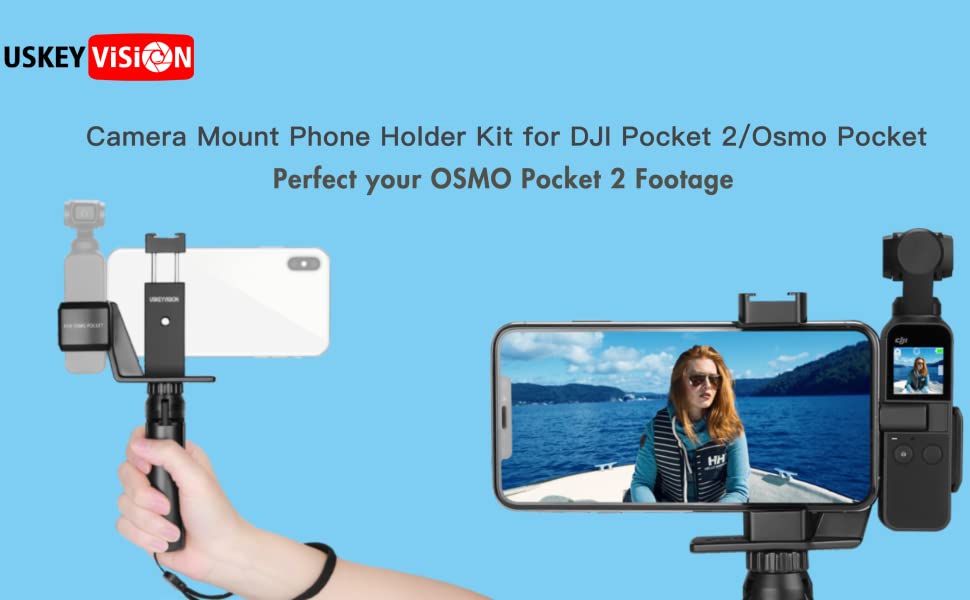 【Perfect your DJI Pocket 2 Osmo Pocket Camera Videography to the Next level】UVOP-A1 OSMO Pocket Holder Mount is perfect for DJI Pocket 2 and Phone mount, you are simultaneously holding the hand all the time. Includes a mini tripod, hand strap, and hax screwdriver that can offer much more rigidity to the phone connector via the Lightning/USB-C connection.

【DJI Pocket 2/Osmo Pocket Hand Grip or Tripod Mount】Hand mounted mini tripod base which has two functions - a hand grip or Mini Tripod as a whole kit for OSMO Pocket. There is also 1/4'' Screw Thread for mounting your extension pole, LED Flash Light, Microphone, tripod completes, and other camera accessories on the OSMO Pocket Mount, so inspire your creativeness.

【Aluminum +ABS+EVA Rubber+Hand Strap】DJI Pocket 2 Osmo Pocket Mount Tripod part made of Aluminum alloy, stable and durable to use. With EVA rubber lining on the Osmo Pocket mount and phone holder to prevent scratching of your Osmo pocket and smartphones. Additionally, in order to hold tight with your OSMO Pocket Holder Kit.

【Bevel Design, Cold Shoe and Two 1/4" Thread】With cold shoe interface and 1/4" Mounting Screw in the middle and bottom of the clamp, Perfect for external microphone & LED light and other external accessories on your new DJI Pocket 2 and the OSMO Pocket gimbal camera.

【Satisfaction Customer Promise】USKEYVISION is dedicated to unleashing your vision. USKEYVISION strives to present the highest quality attachment lenses on the market. We back up our products with a lifetime warranty, great customer service, and a full satisfaction guarantee with free shipping and returns. Ask us how to get set up with a USKEYVISION gear guide.