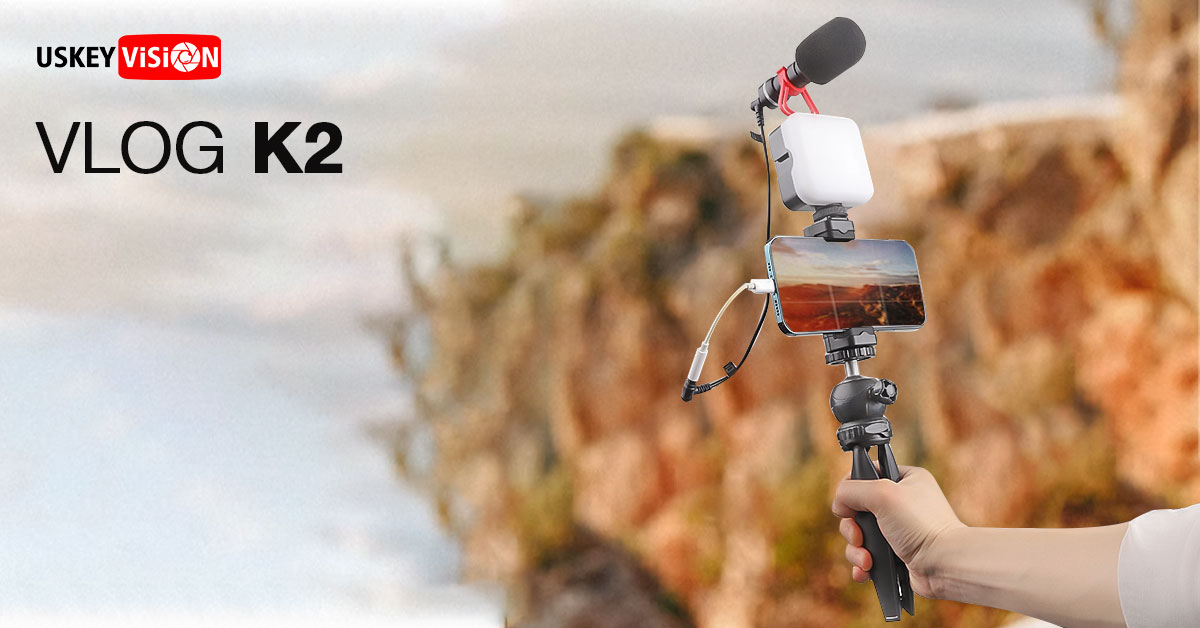 NOTES: lf your smartphone is equipped with USB-C or iPhone Lightning headphone Jack, please separately purchase a certified USB-C convert cable or lightning 3.5mm adapter cable (The lightning and USB-C adapter cable doogles are NOT Included in the vlog kit).

VLOG K2 Smartphone Vlogging Kit for All Phones and Cameras: USKEYVISION VLOG K2 is born for vlogging on your phone and camera. Say goodbye to complicated, expensive filming setups. This smartphone kit effortlessly levels up your video, whether you're starting a YouTube channel and Tiktok, doing an interview, or capturing your latest travels. This VLOG K2 is suitable for any professional smartphone filmmaking or storytelling, vlogging, or live streaming anytime anywhere.

【 Cardioid Microphone with Wind Screen to Record Audio】 --- Noise Reduction Microphone: The UVM-V microphone significantly improves your audio record, delivering a crisp and clear audio experience, while blocking out peripheral environmental noise. You can also be able to monitor the sound with this headphone monitoring jack of this microphone.

【 UVZL-S Video Light with Adjustable Brightness with 2000mAH Built-in Rechargeable Battery】 --- You can control your lighting from 1% to 100% brightness to get the adjustable lighting for your setup. With the 2000mAH Built-in Rechargeable Battery, it will make sure that even without any power source, it also can light you anytime anywhere if need.

【 What you Will Get】 --- 1 x microphone, 1x TRS audio cable; 1 x TRRS audio cable; 1x windscreen, 1x sock mount, 1x phone holder clip, 1x video light, 1x tripod, 1x premium case bag.Note: The lightning adaptor cable for iPhone and USB-C audio adaptor cable for some Android phones are NOT included.

VLOG K2 Phone Photo Video Kit and your investment in our store come with a 1 Year Warranty for product problems. Call or message us if you get stuck in the use of products. Our elite customer support team is here to help you out.