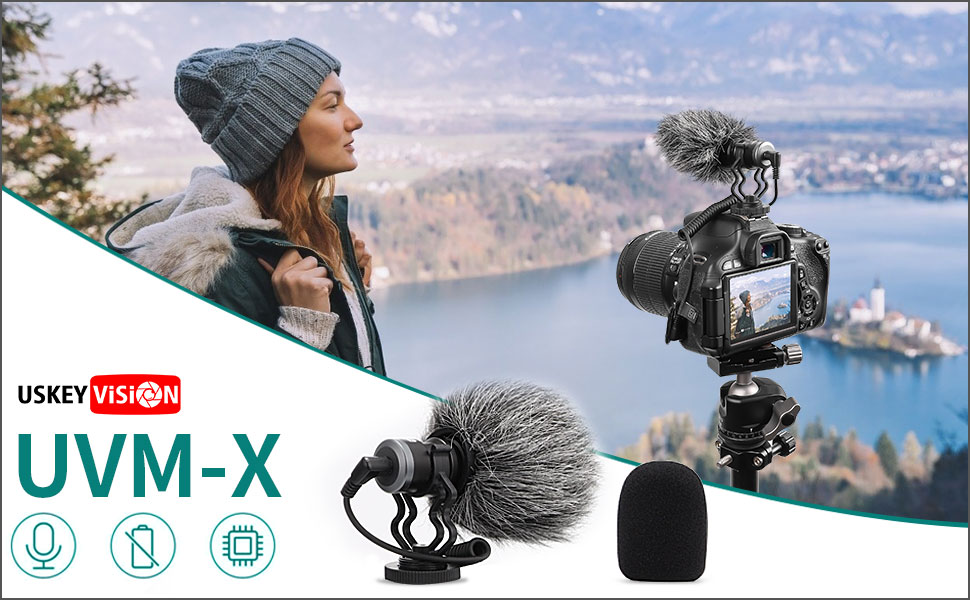 NOTES: lf your smartphone is equipped with USB-C or iPhone Lightning headphone Jack, please separately purchase a certified USB-C convert cable or lightning 3.5mm adapter cable (The lightning and USB-C adapter cable doogles are NOT Included in the vlog kit).

Universal Professional Cardioid Microphone for VLOG. UVM-X Microphone Vlog Kit is born for professional video recording and is loved by smartphone vloggers, YouTubers, filmmakers, videographers, and photographers. The battery-free cardioid "shotgun microphone" is a high-end microphone to capture high-quality audio in front of the audio source while reducing background or environmental noises.

Noise Reduction Microphone: The UVM-X microphone significantly improves your audio record, delivering a crisp and clear audio experience, while blocking out peripheral environmental noise. So the UVM-X microphone is a noise-reduction microphone for studio audio recording.

Wider Compatibilities with Cameras and Phones: UVM-X Microphone Kit includes 3.5mm TRRS Audio Output Cable(For Smartphones Tablets and for MacBook) 3.5mm TRS Audio Output Cable(For DSLRs Cameras, Camcorder Recorders) These two audio connector cables are build-in accessories to work with more camera and phones. NOTES: the lightning audio cable is NOT included in this package.

What you will Get: 1x UVM-X Microphone; 1 x Shock Mount; 1 x Windscreen; 1x TRS audio cable; 1 x TRRS audio cable; 1 x Pouch. Shock Mount and Windscreen Included: From videography amateurs to professionals, the shock-mount and furry windscreen can minimize handling noise when recording for interviewing, streaming, Livestream, vlogs, and YouTube videography.

Satisfaction Customer Promise: USKEYVISION is dedicated to unleashing your vision. USKEYVISION strives to present the highest quality light on the market. We back up our products with a lifetime warranty, great customer service, and a full satisfaction guarantee with free shipping and returns.