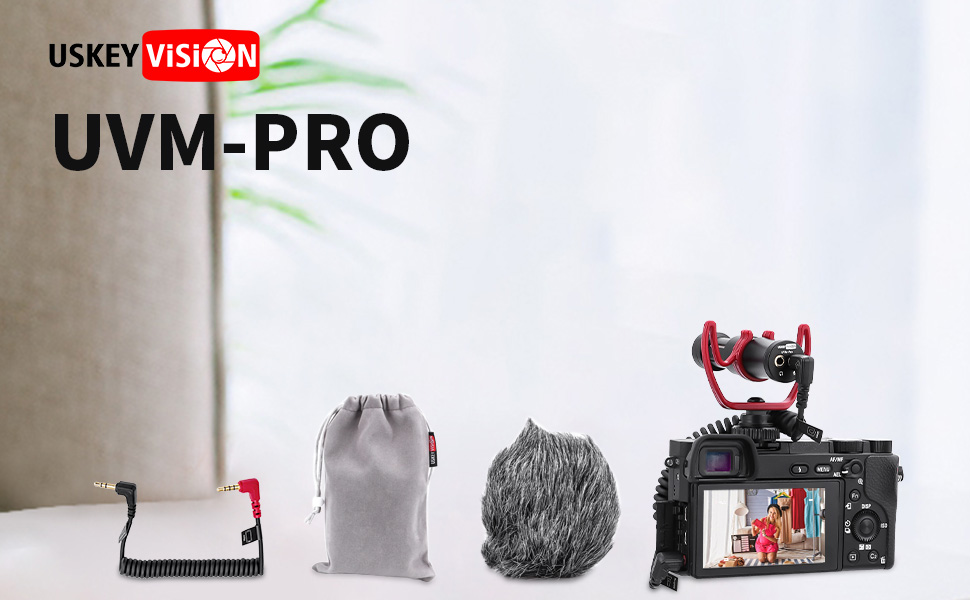 NOTES: lf your smartphone is equipped with USB-C or iPhone Lightning headphone Jack, please separately purchase a certified USB-C convert cable or lightning 3.5mm adapter cable (The lightning and USB-C adapter cable doogles are NOT Included in the vlog kit).

Universal Professional Cardioid Microphone for VLOG. UVM-Pro Microphone Vlog Kit is born for professional video recording and loved by smartphone vloggers, YouTubers, filmmakers, videographers, and photographers. The battery-free cardioid "shotgun microphone" is a high-end microphone to capture high-quality audio in front of the audio source while reducing background or environmental noises.

Wider Compatibilities with Cameras and Phones: UVM-Pro Microphone Kit includes 3.5mm TRRS Audio Output Cable(For Smartphones Tablets and for MacBook) 3.5mm TRS Audio Output Cable(For DSLRs Cameras, Camcorder Recorders) These two audio connector cables are build-in accessories to work with more camera and phones. NOTES: the lightning audio cable is NOT included in this package.

Noise Reduction Microphone: The UVM-Pro microphone significantly improves your audio record, delivering crisp and clear audio experience, while blocking out peripheral environmental noise.You can also be able to monitor the sound with this headphone monitoring jack of this microphone.

Shock Mount and Windscreen Included: From videography amateurs to professionals, the shock-mount and furry windscreen can minimize handling noise when recording for interviewing, streaming, Livestream, vlogs, and YouTube videography.